Release of new single Spring Steel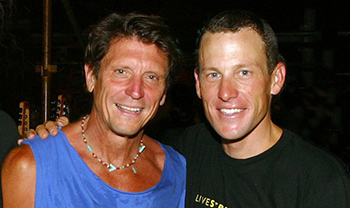 Once again, Billy Peterson surprises with his tremendous talent and creativity, not only as an internationally renowned bass player (Steve Miller, Bob Dylan, Boz Scaggs, Carlos Santana, …etc.), but also as a successful producer and singer-songwriter.
"Spring Steel" was written in 2005 regarding the seven Tour de France victories of Lance Armstrong, called "Spring Steel". The song was recorded at Prince's former house outside of Minneapolis with Peterson's fellow musicians Chad Cromwell (Neil Young, Stevie Nicks), Doug Pettibone (Mark Knopfler, Zucchero), Peter Schimke (Rita Coolidge, The Replacements), and Billy's brother Ricky Peterson (Fleedwood Mac, John Mayer). Produced by Hans Stachowiak, "Spring Steel" is part of several recordings of "That Band".
"Spring Steel" will be realesed by megabien music on all digital platforms on August 10, 2022.